Celebrated by Sikhs and Hindus around the world, Baisakhi or Vaisakhi marks the beginning of the new Solar year and the harvest season in India.
On the occasion of Baisakhi, people get together in celebration. They dress up in vibrant hues, prepare and enjoy sweet and savory delicacies. From Kadhi Chawal to Kheer, Baisakhi foods are truly delightful.
Baisakhi is a festival originally celebrated by farmers to welcome the spring and harvest season. The festival also marks important events in the history of the noble religion, Sikhism. On the auspicious occasion of Baisakhi, Sikhs visit Gurudwaras, their place of worship.
The holy book of the Sikhs, the Sri Guru Granth Sahib is recited at the Gurudwara and even in people's homes. People participate in street parades, popularly known as Nagar Kirtans, where they sing holy hymns and rejoice in the spirit of the harvest season.
Apart from the religious rituals, food is a big part of Baisakhi celebrations. A wide variety of sweet and savory delights are prepared at home and exchanged amongst family and friends. People come together to celebrate with food and gifts. It is an auspicious day for the Sikh community.
Let us take a dive into some of the delicious dishes prepared during the spring harvest festival of Baisakhi.
Kheer :
This rich, creamy dessert has many varied versions around the country. Rice Kheer is special during Baisakhi. You can top it off with dried fruits, nuts, and cardamom powder.
You can serve either hot, fresh from the stove, or cooled down and refrigerated.
Kadhi Chawal :
Kadhi is a traditional Indian curry, typically eaten with rice. Punjabi Kadhi is a curry dish made from full-fat sour yogurt and Besan. Add to it a delicious blend of authentic spices that give it that traditional Punjabi taste.
Serve it with Jeera rice. It is a popular dish served at Langars and prepared especially on Baisakhi.
Lassi :
Every Indian is a big fan of Lassi drink, the delicious, creamy, and cool beverage. Lassi is a staple in Punjabi cuisine. Basically, it is a sweetened and watered-down version of yogurt.
Traditionally, Lassi is only yogurt and sugar, but now it comes in delicious flavors such as Mango Lassi, Rose Lassi, Pineapple Lassi, and many more.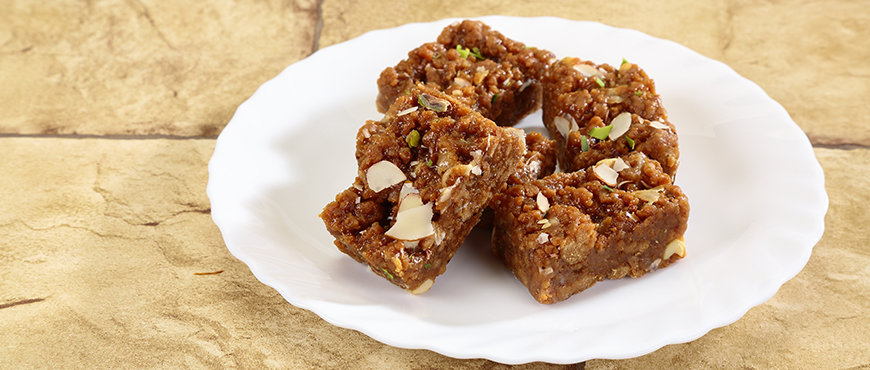 Dodha Barfi :
Dodha Barfi is an authentic Punjabi dessert that is a part of most festivals and joyous occasions. It is a rich dessert made from milk, ghee (clarified butter), sugar, alum, and a generous amount of dried fruits and nuts.
This barfi is served on special occasions, Baisakhi being one of them.
Atta Halwa :
Atta Halwa is a simple yet incredibly delicious dessert made from readily available home ingredients. Make it with whole wheat flour, ghee (clarified butter), milk, and sugar is topped with dried fruits and nuts to give it some extra flavor and texture.
It is popular in Punjabi households on special occasions and festivals. It is also called Kadha Prasad and distributed at Gurudwaras.
You can make these dishes at home, using Organic ingredients from Dwaraka Organic to achieve that authentic Indian taste. They are easy to prepare and you can enjoy them with family and friends can enjoy them on the occasion of Baisakhi.