Indians are food-crazy; it's just not a myth; it's a tasty reality! Food is an integral part of every Indian festival. This craziness multiplies when a whole community gathers together to celebrate their favorite festival with devotion, chit-chat, music, and a lot of food, too prepared together. You can enjoy Indian festival food at home away from home with Dwaraka Organic. How? Let's find out.
Indian festivals are a hardcore Indian foodie's dream come true. The most authentic and exciting dishes are served during this time. Every community in India is busy celebrating one festival after another round the clock. So, we can say how Indians love celebrating festivals and food! If you meet any Indians near you, you can just keep hearing about their traditional recipes and festival food ideas they have got on the mind.
The festive feels have cocooned us very nicely in 2022. With many holidays to enjoy and celebrate with feasts, it is the right time to enjoy Indian festival food. Everyone is geared up for Diwali and the new year, and when it comes to Indian festival food, the list of dishes and categories can go long and long.
What are the traditional foods in India?
The sumptuous feast of Indian festival food includes regular dishes like sabzis, rotis, rice varieties, and special items like snacks and sweets. Indian festival food truly adds much more enthusiasm to the festive spirit. So, without wasting more time, let's dive into some of the traditional festive delights you can try for an authentic Indian food experience this year.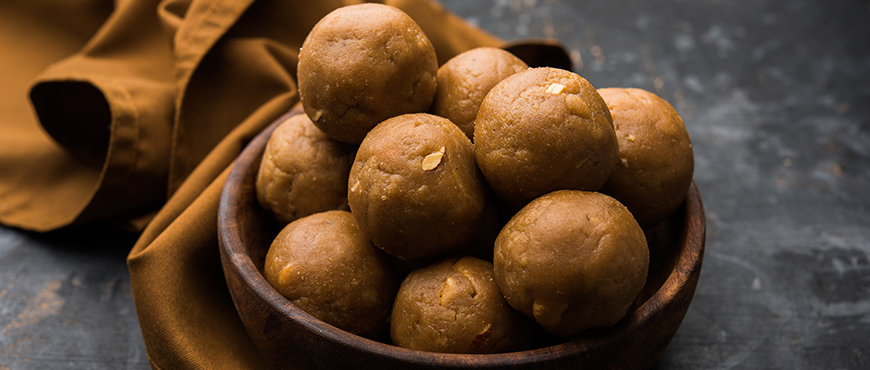 1) Atta Laddoo:
Healthy and nourishing, Atta Laddoo is your friend for noon and midnight hunger pangs. Just have two Atta Laddoo, and you are refilled with energy. These are made with whole wheat flour, and you can make small batches of these and store them at normal temperature for 7 to 8 days. In some Indian communities, Atta Laddoos are offered as bhog or prasad to Gods and Goddesses.
2) Dahi Bhalle:
Dahi Bhalla, popularly known as Dahi Vada in many parts of the world, is soft Urad Wada soaked in sweet dahi prepared using a variety of light spices and garnished with finely chopped coriander leaves. Dahi Bhalle, as a festive delicacy, is a treat for Indians. After a spicy lip-smacking main course, you can enjoy Dahi Bhalle with your guests.
3) Gajar Ka Halwa:
You won't meet a single Indian food lover that does not appreciate Gajar Halwa! In Indian households, it is a tradition to prepare and serve Gajar Halwa on any day during the festive season. It is a simple Indian dessert made using grated carrots, milk solids, sugar, and cardamom. Gajar Halwa is specially made during the Bhai Duj celebration of Diwali when the brother meets his sister, as it's a festival of their sibling bond.
4) Onion Bhaji:
Usually, Indians start their festive days with sweets and desserts, but sometimes, in some cultures enjoying fried snacks made for immediate consumption is a standard practice. Onion Bhaji or Onion Pakoda is a simple Indian festival dish enjoyed with a hot tea or coffee. These crunchy, salty, and spiced pakodas are made with slice-cut onions, chickpea flour, ginger, cumin, coriander, turmeric, and chili powder. The batter is made with chickpea flour mixed with these spices, and onion is soaked in the batter and deep fried until it turns golden-red. You can easily prepare it at home and have a bright and balancing chutney like mint-cilantro chutney.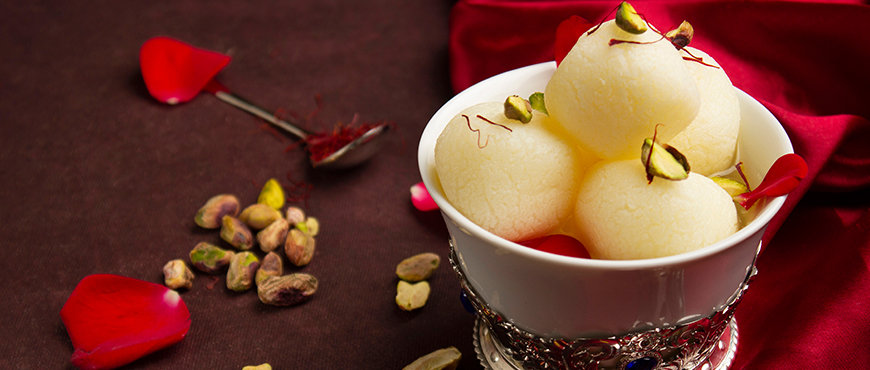 5) Rasgulla:
The string of Indian festivals calls for authentic Indian sweets, and Rasgulla is one of the finest and simplest Indian desserts you can find. You may have enjoyed Rasgullas from Indian sweet shops, but did you know making Rasgullas at home is so easy? Just have some paneer rolled into small round balls, soak them in sugar syrup and cook on mild heat until they are ready. This basic recipe will help you enhance the beauty of this festive season.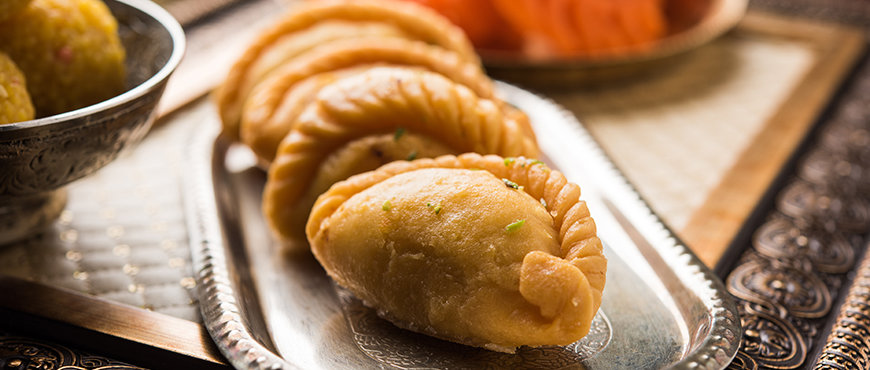 6) Khoya Gujiya:
Khoya Gujiya is a delectable Indian sweet dish made during festivals like Holi and Diwali. The shell of gujiya is made with fine maida flour, and the stuffing is made with khoya, i.e., mawa (milk solid) mixed with different dry fruits. Mawa gives it a rich texture, and the flavor of dry fruits gives its delicacy and crunchiness. Gujiyas are deep fried in desi ghee which adds a rich flavor to gujiyas. Gujiyas in Diwali's Faral is a famous sweet dish. Here is Dwaraka Organic's recipe for Gujiyas.
There are so many other authentic and scrumptious Indian festival food recipes you can try at home during the festive season. 
At Dwaraka Organic, we highly suggest you use all-natural and organic ingredients while preparing any festival recipes at home. 
We offer a wide range of 100% organic products, and you can easily buy them at any grocery store near you or on Amazon. 
Enjoy your favorite festivals with Indian food, stay happy and stay blessed.