Holi Special Dishes That You Cannot Miss
The most awaited Indian festival of all, Holi, is finally here! The festival of colors is for merriment, moments with family and friends, and most importantly, food!
From playing with vibrant colors to indulging in sweet and savory delicacies, Holi is all about spreading joy!
Marking the end of winter, Holi is a festival that welcomes spring. Moreover, Holi is a day to celebrate good over evil, a day to celebrate love and the beautiful colors of life.
It is celebrated all over India, and in countries like Nepal, Trinidad and Tobago. People also celebrate it in diverse countries like the USA, the UK, Australia, and many more.
The Holi celebrations are kick-started the evening before, also called Choti Holi in North India. To celebrate Choti Holi, people gather around a communal bonfire and perform rituals that mark the victory of good over evil.
The traditional bonfire is called Holika Dahan, which is said to be represent the burning of Holika. 'Holika' was the sister of the demon king Hiranyakashapu, a symbol of evil. After that, the next day is called Rangwali Holi or Dhuleti.
On this day, people play with water and colors with family and friends. After that they also devour delicious food and authentic Indian sweets. 
Every Indian festival is known for its special dishes. Here are some Holi special dishes that you cannot miss this Holi: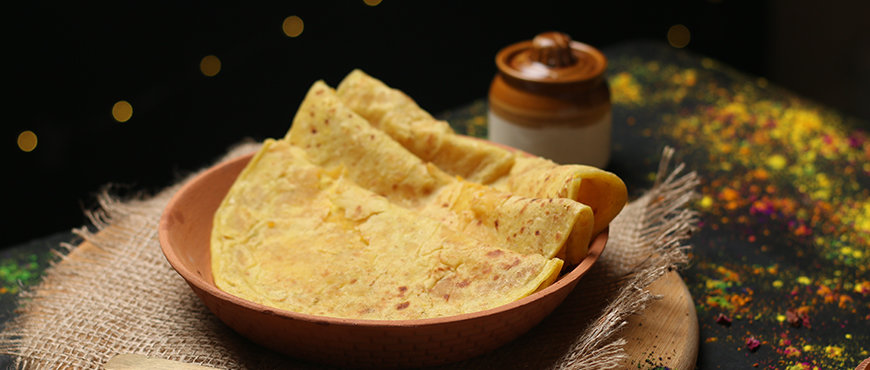 Originally from South and West India, Puran Poli is a sweet delicacy prepared for several festivals and special occasions.
It is a sweet plain flour flatbread made with a yellow gram and jaggery filling. Puran Poli is served hot with some pure desi ghee poured over it to enhance its flavors.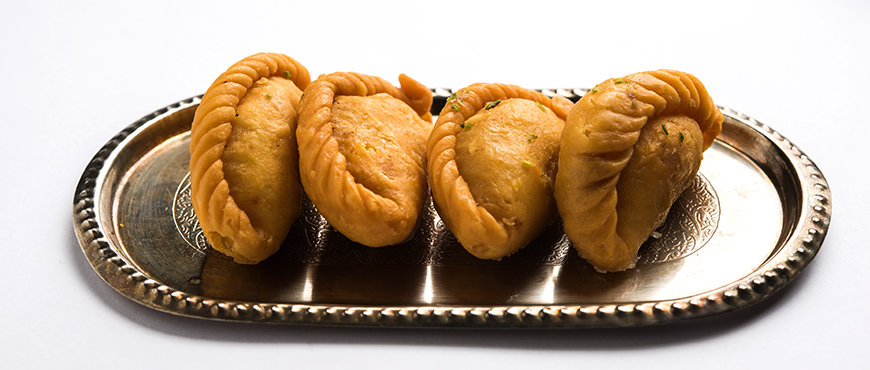 Gujiya, also known as Karanji, Pedakiya, and Kajjikalayu, is a sweet that is prepared and devoured all over India.
Primarily, it's a sweet dumpling made from flour or Suji and stuffed with rich khoya and dried fruits and fried in desi ghee. These are an absolute delight and a must-have on Holi.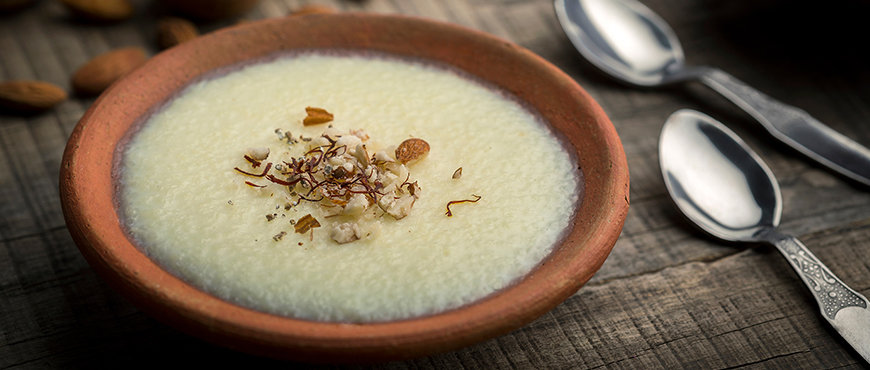 Phirni:
Phirni is a creamy pudding made with simple ingredients like milk, sugar, and rice. You can also top it with dried fruits and nuts to make it more delicious.
Usually served hot or cold, Phirni is one of the most popular desserts made on Holi. Additionally, varied preparations of this dessert called Kheer, Payasa, and Payasam are popular in other parts of India.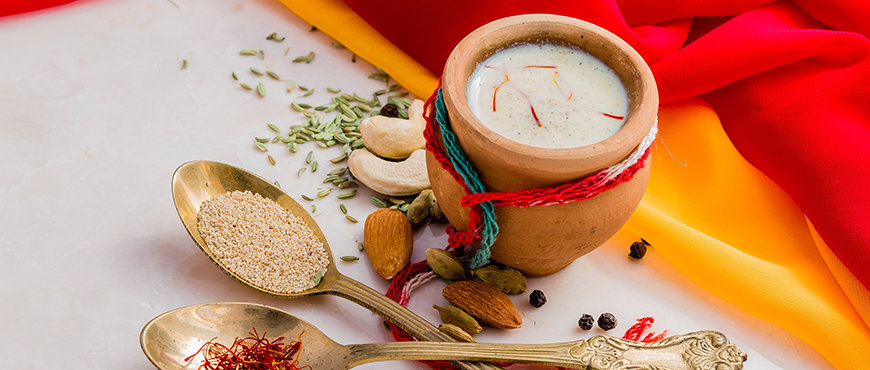 Thandai:
Thandai is a cold beverage originally from Northern India. It is a milk-based drink made with sugar with added ingredients such as saffron, almonds, poppy seeds, fennel seeds, rose petals, and many more.
Sometimes, people make Thandai in various flavors like Rose Thandai, Kesar Pista Thandai, Mango Thandai, and many more.
It is a light snack made with boiled chana, diced onions, tomatoes, and masalas. That is to say, it is easy to prepare and incredibly delicious.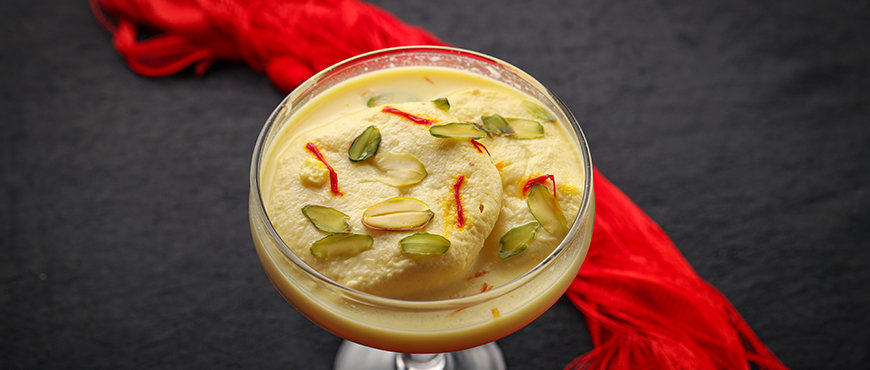 Ras Malai:
Ras Malai is a popular Indian dessert, originally from Bengal and Odisha. It is a creamy milk sandwich known for its rich flavors.
Ras Malai is a delicacy served on special occasions and festivals like Holi and Diwali.

Lassi:
Lassi is a yogurt-based cool drink is known for its creamy texture and delectable taste. Originally from the Northern parts of India, Lassi has become popular around the globe.
Firstly, the recipe is very easy – mixing yogurt with sugar or salt depending on your choice.
Secondly, if you are opting for the savory one, add some masalas and spices too. To conclude, top it off with cream, and you're good to go
Nowadays, Lassi is made in several innovative flavors such as Mango Lassi, Pineapple Lassi, Rose Lassi, and many more.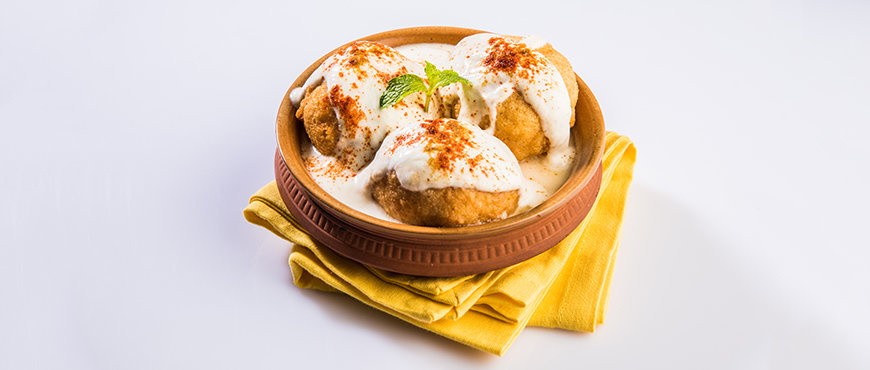 Dahi Vada:
Dahi Vada is a combination of sweet and savory, a dish originally from Southern India.
Fried vada is absorbed in water. After it is soft, it is topped with sweetened yogurt, some masalas and chutneys.

Malpua:
Malpua, the Indian pancake, has its roots in Eastern India, Nepal and Bangladesh. Made from rice flour, sugar, and coconut water and fried to golden brown perfection.
It is a popular dessert in South Asia.