Ganesh Chaturthi is one of the most auspicious occasions for Hindus. It celebrates the birth of Lord Ganesha, son of Lord Shiva and Goddess Parvati.
People worship the Ganesha idol for 11 days during this Hindu festival, followed by a grand celebration for the idol's immersion called Visarjan. Families invite guests to pay respect to the idol, and guests are treated to a variety of food items as prasad (Lord's blessings). This blog will share some simple vegetarian dishes that you can treat your guests to.
Ganesh Chaturthi Celebrations In A Nutshell
Ganesh Chaturthi is a Hindu festival celebrated across the Indian subcontinent, with Maharashtra being its center. During India's freedom fight, a senior freedom fighter, Lokmanya Tilak, started the tradition of celebrating Ganesh Chaturthi in full grandeur to camouflage the secret meetings of the freedom fighters. Since then, celebrating Ganesh Utsav in Maharashtra and other parts of India has become a tradition. 
Generally, people bring home artistic Ganesh clay idols decorated with various jewels and attractive clothes. 
They invite family members, friends, and neighbors to worship the idol for as many days as it is at home. Devotees sing prayers songs, folk songs, perform aarti and puja with the hope that the Lord answers their prayers. 
The vibe is spiritual and positive during this festival. People do a lot of charity work and feed the needy in an eating gathering called the Bhog. Moreover, guests are invited to join for the blessed feast after the grand evening aarti and puja. Sometimes, people also chose to share sweets and snacks instead of a whole meal. 
However, there's one prime sweet you will find in every home that hosts Lord Ganesha, Modak. It is a soft rice dumpling stuffed with a heavenly mixture of jaggery and coconut. It is said that Modak is Lord Ganesha's favorite sweet, and thus it is offered to him and his devotees during Ganesh Chaturthi. 
People gather from everywhere to pay respect to the Lord and to seek his blessings. 
Bhog, Offerings, and Ganesh Chaturthi Recipes
It is quite tricky to decide the offerings for the lord and his devotees for 11 days, especially if you have guests coming over every single day. 
Therefore, to make it simple for you, we have a list of 10 snacks and sweets you can prepare this Ganesh Chaturthi.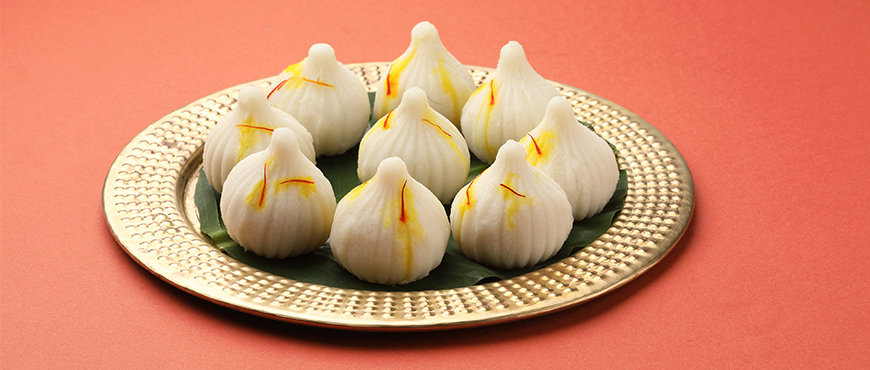 Ganesh puja is incomplete without a sweet ending of mouth-watering Modaks. Try the above recipe and treat Lord Ganesha to his favorite sweet.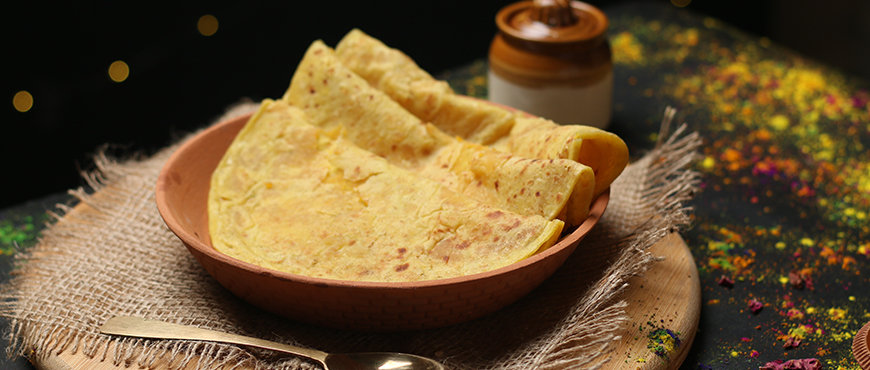 Maharashtrians love their Puran Poli like the French love their cheese. This jaggery and besan stuffed Indian flatbread is sure to win hearts at your Ganesh Chaturthi gathering.
Besan Ladoos are the star of every Indian festival. They are easy to prepare and enjoyed by everyone. So, try this recipe and impress your guests with a sweet they can't resist.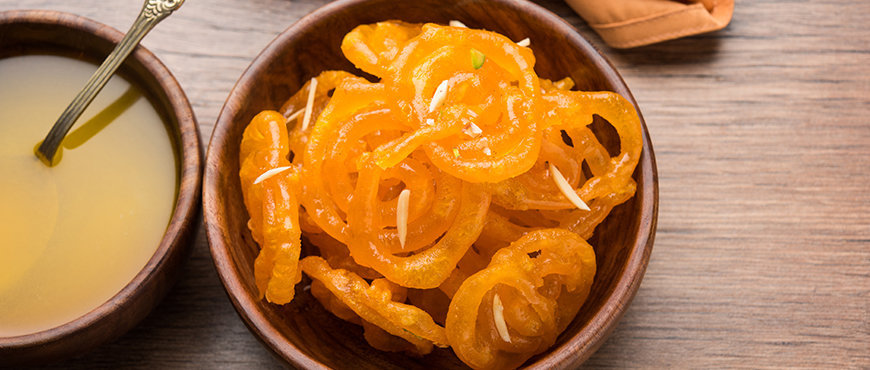 Twisted colorful treats, jalebis are known for their crisp crust and syrupy texture. If you want to get creative, this Ganesh Chaturthi, try making jalebis of various colors using this recipe and food colors.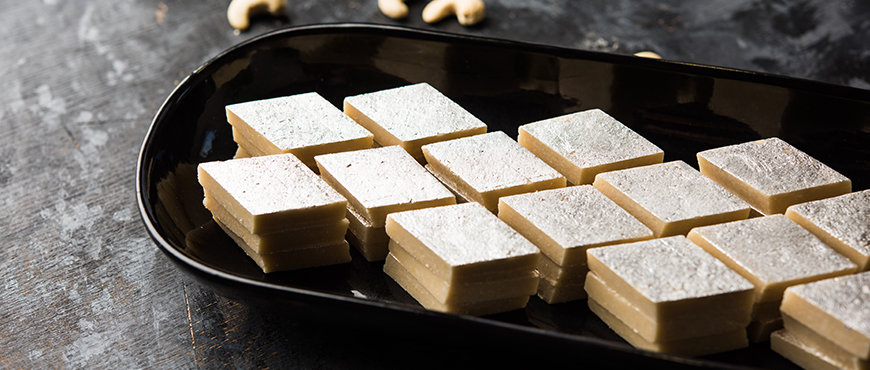 A sweet that makes any celebration richer. Try our detailed Kaju Katli recipe and offer a rich surprise to the lord. 
If you or your guests are fasting try our simple, tasty, and easy-to-prepare Sabudana Khichdi recipe.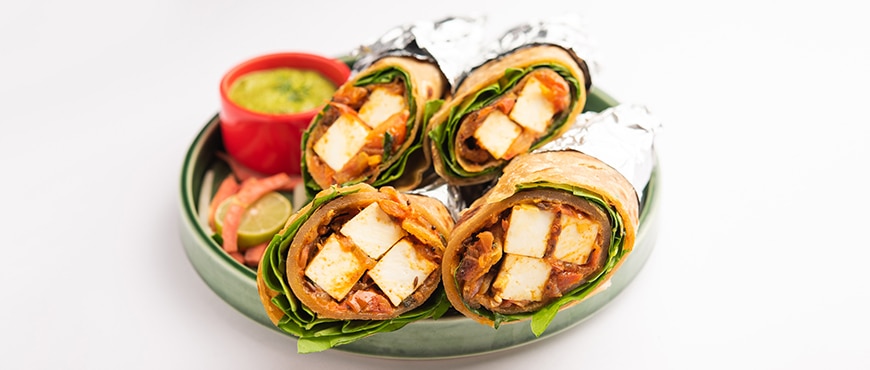 Go unconventional with your Bhog ideas. Try this lip-smacking Paneer Roll recipe and get praised for your skills.

This native Maharashtrian snack will complete your Ganesh Chaturthi celebration. Make this hot and sizzling snack using our detailed recipe and organic food products.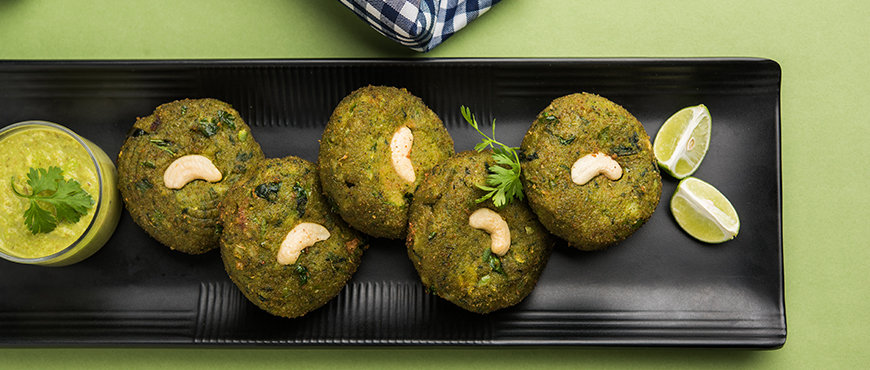 If you want to try something healthy which is also irresistible, then go for Hara Bhara Kababs. They are filled with the goodness of greens and flavored with authentic Indian spices. Every piece is a slice of heaven.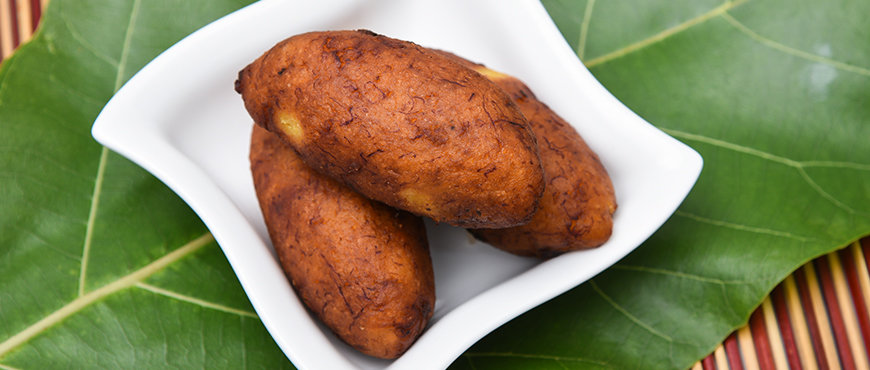 Made with soft raw bananas and Indian spices, this dish is here to steal hearts. Try our recipe and know for yourself.
To summarize, celebrate Ganesh Chaturthi 2021 with mouth-watering food, positive vibes and hope for a better tomorrow. Do try the recipes mentioned above along with our 100% organic, non-GMO products. Shop for Dwaraka Organic on Amazon or at your nearest Indian grocery store.