Blended spices are a boon to the ones who love cooking delicious dishes in a faster and more convenient way, thereby saving more time and effort. Read this blog to get acquainted with some of the special blended spices that Dwaraka Organic offers.
India is widely known for its rich, cultural culinary heritage comprising a vast range of delicacies with an even wider range of tastes and flavors. The delicious and soul-satisfying food of Indian cuisine is a magical experience that every person should enjoy. The heavenly flavors of Indian food are so irresistible that once you start liking it, there is no turning back, and if there is a wide range of Indian delights served, you will be spoiled for choice and fall in sheer love with the dishes of this cuisine. 
But do you know the secret behind this magic of desi food? The authentic desi spices make desi food a heavenly experience to cherish for a long time. Apart from its traditional culinary culture, India boasts a rich, interesting history with several spices. These spices add colors, flavors, and tastes to every individual dish of Indian cuisine. 
There are several traditional dishes of Indian cuisine that demand perfection in the mix of spices that they are prepared with. Otherwise, the dishes lose their authentic flavors. So Dwaraka Organic offers some pure and natural blended spices to ensure you do not go wrong with the proportions. These blended spices are too close to perfection, and we assure you that you do not require any other additions if you use these spices for cooking their respective special delicacies.
In this blog, we bring you some blended spices we offer in our range of 100% natural and organic food products, saving you a lot of cooking time and the effort needed to prepare authentic dishes. Scroll down to read about these authentic blended spices.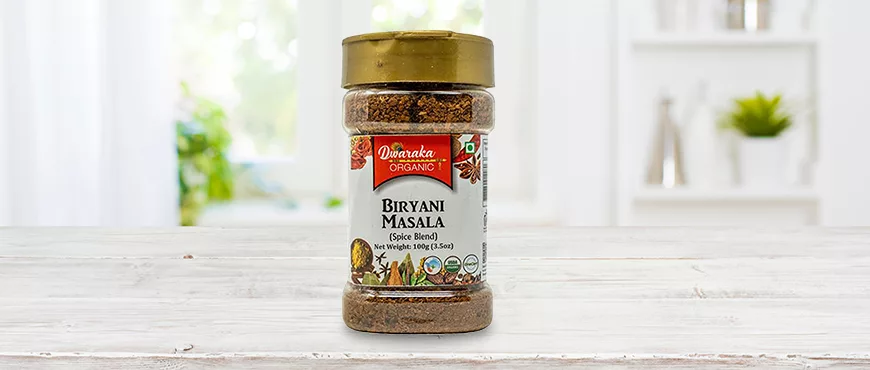 A favorite dish of Indians worldwide, Biryani is closely attached to India's culinary heritage and culture. Its reason is that it has authentic flavors and tastes that come from only the specific spices for Biryani. The proportion of every spice is significant to make the perfect Biryani Masala powder. So in case you are unaware of or go wrong with the balance of spices while trying to cook Biryani yourself, we bring you the authentic Biryani spice blend in our product range.    
Our special Biryani Masala comprises authentic spices such as Clove, Pepper, Cardamom, and several other essential spices blended together to make it the best Paneer or Vegetable Biryani Masala Powder. Due to all the required ingredients in our organic Biryani Masala spice blend, you don't have to add any other spices when cooking. Therefore, your Biryani will be ready within minutes.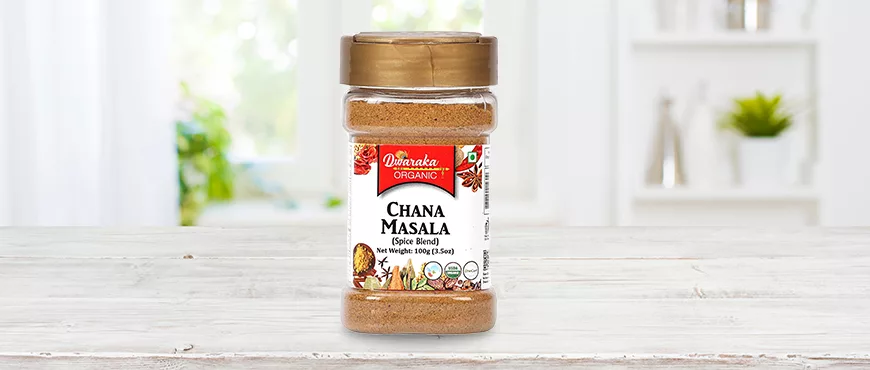 One of the most renowned and traditional dishes of Indian cuisine, Chana Masala is famous for its taste and has been a part of our culinary tradition for decades. This delicacy's most authentic form involves using popular Indian spices such as Garam Masala, Turmeric Powder, Red Chili Powder, and other whole spices. The uniqueness of this dish lies in the perfection with which these popular spices for cooking are blended. 
We offer you the very easy-to-use Chana Masala spice blend so that you can cook this delicacy without worrying about the right balance of ingredients. This special Chana Masala Powder has everything you need to prepare and make the dish taste 100% authentic. Chana Masala is one of the most-used blended spices, so you better try it out too, and perhaps you will instantly love the convenience it offers you while cooking the dish.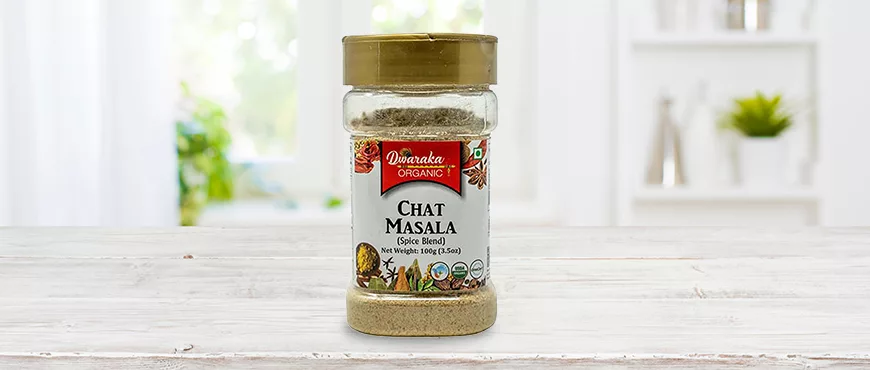 Chaat Masala is a widely blended seasoning in several dishes. It consists of an interesting mix of authentic spices blended, resulting in a tangy spiced flavor when you apply it as a garnish on your favorite dishes. The most popular use of Chaat Masala powder is mainly on appetizers and dishes like Aloo Chaat, Sev Poori, Raitas, and several other delicacies. Additionally, if you enjoy a refreshing fruit salad, just use a little of our organic Chaat Masala. You will undoubtedly feel the twist of a spicy, tangy flavor.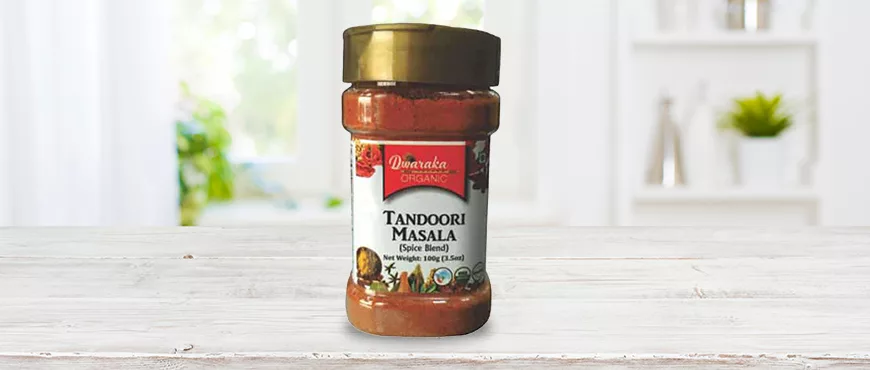 Are you a fan of tandoori dishes, just like almost every other Indian worldwide? Then we have good news for you! You must be aware that to get the authentic essence of tandoor flavors, you need the perfect blend of spices to marinate your paneer, soya chunks, mushrooms, or veggies. 
So we do not want you to spend your time or worry about using the necessary proportions of every individual spice to prepare your Masala. Therefore, we offer you the absolutely amazing Tandoori Masala from our range of organic blended spices. You can use it as a marination spice blend for your grilled vegetables or apply it to some paneer delicacies simply to amp up the taste and intensify the flavors.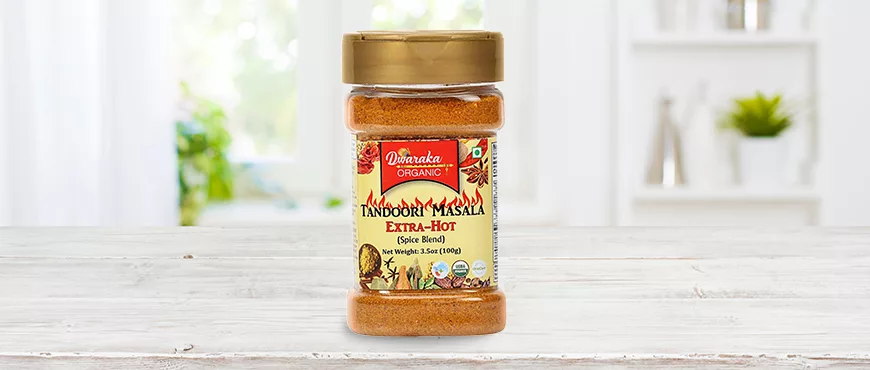 If you or your friends, loved ones, and family members prefer to relish spicy dishes, especially when it comes to tandoori delicacies, then our very special Tandoori Masala (Extra Hot) is the perfect choice for you. This Masala has a blend of almost all the notably popular spices for cooking, such as Turmeric, Cloves, Red Chili, and many more. These organic spices are roasted and finely ground into a powdery form, and these blended spices together make the unique Tandoori Masala (Extra Hot). This spice blend can be used in tandoori dishes and other Indian gravy delicacies. 
The unique blended spices from Dwaraka Organic's product range mentioned above are highly pure and 100% natural. We bring you only the best of what nature offers without tampering with or including artificial enhancements or chemicals. We motivate you to shift to a diet where you consume organic food daily and live a happy and healthy life. Shop for 100% pure organic and natural Dwaraka Organic products at Amazon or your nearest Indian grocery store. Stay tuned for the second part of the blog, where we bring you some more blended spices that we offer.