Organic blended spices make our lives easier with the authentic flavors and abundance of convenience they provide. Read this blog to know about some of the purest and most organic blended spices that we at Dwaraka Organic offer you!
Spices are an essential part of the rich culinary heritage of India. The wide variety of delicacies that Indian cuisine boasts are all prepared with these flavorful, aromatic spices, and these ingredients bring natural flavors and taste to the dishes. You have surely read the first part of this blog, Top Organic Blended Spices Every Cook Should Have – Part 1, and in this second part, we bring you some more blended spices from our range of products.  
As mentioned in our previous blog, certain dishes in Indian cuisine require a specific proportion of popular Indian spices in the cooking process to achieve the most authentic and traditional flavors and essence. But as important as it seems, the blend of these spices must be absolutely perfect if you are willing to attain the optimum level of authenticity. 
So, if you wish to cook traditional desi delicacies but are unsure of the right proportion of spices, don't worry! Dwaraka Organic offers you a wide range of organic blended spices with the exact amount of all the popular spices that go into making some traditional signature Indian dishes.
Read this blog to know more about these blended spices!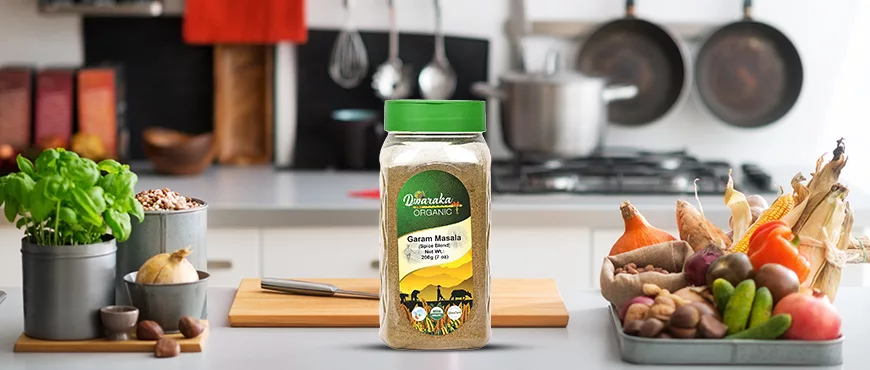 One of the essential spices in the culinary culture of India, Garam Masala belongs to the list of authentic spices that add the desi touch to Indian dishes. It is generally a blended seasoning used in curries, soups, daal, paratha, and other dishes to enhance the taste and flavors. Besides its contribution to Indian delicacies, Garam Masala is also considered good for health and benefits us with its nutritional elements.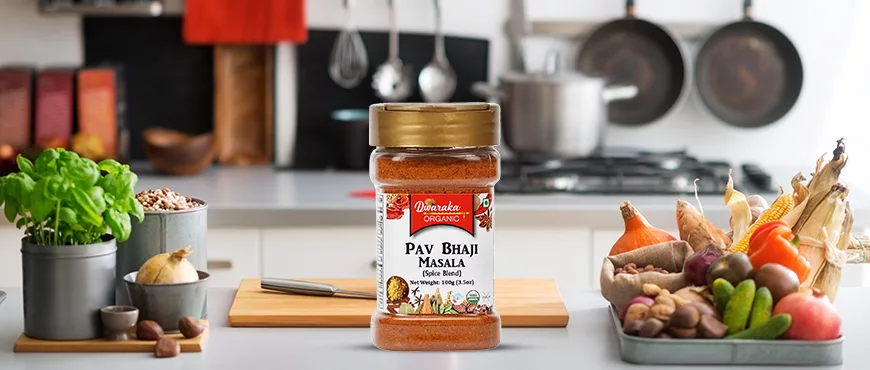 One of the most famous delicacies from the streets of Mumbai, India, Pav Bhaji, is a dish relished by every desi food lover worldwide. But as you've guessed by its regional fame, Pav Bhaji has a signature taste that captivates foodies and for which this delicacy is a people's favorite. So if you are wondering how to prepare this dish best, get the special Pav Bhaji Masala from Dwaraka Organic. It is one of the finest blended spices we offer, and we assure you that you will get the 100% authentic taste of this all-time loved desi delight! 
You know how we call certain people our saviors in life? Just like that, the savior in the kitchen, the king of all spices, Kitchen King Masala, from Dwaraka Organic's product range of blended spices, is an ingredient that aids us similarly in our culinary activities. It is one of the most versatile blended spices we offer and goes almost with every dish. Once you add Kitchen King Masala to the preparation of certain dishes, you will instantly get the intense flavors, aroma, and taste. Its versatility and ability to blend in with all dishes make Kitchen King Masala the king of spices in Indian cuisine.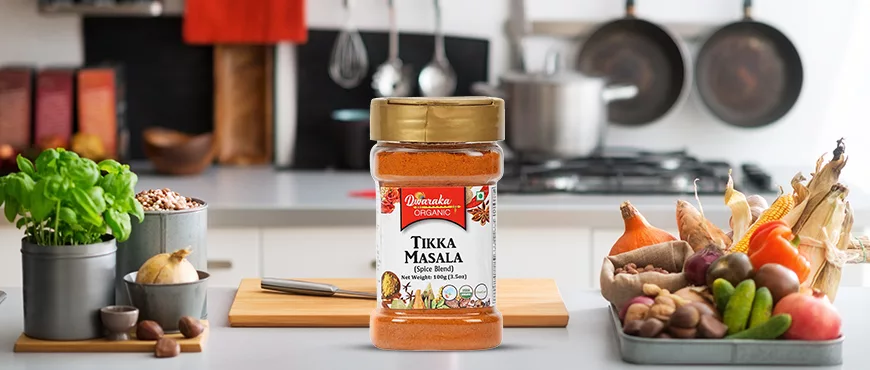 When you host a barbecue for your friends, family, and loved ones, having the correct proportion of spices is necessary to ensure a smooth cooking process. We offer you the very aromatic, flavorful, and authentic Tikka Masala from our range of blended spices. Make sure to use this product to elevate your barbecue sessions by adding a touch of authentic and spicy taste to your dishes. Tikka Masala is one of the finest options of blended spices that you can choose from our product range to enjoy a flawless barbecue experience with your beloved people.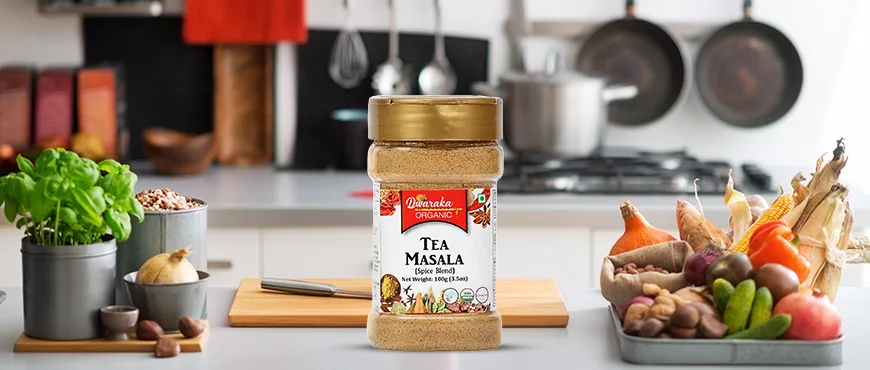 Another heartwarming and wholesome spice blend that we offer is the Dwaraka Organic special Tea Masala. Our authentic Tea Masala is one of our most special blended spices comprising traditional ones like clove, cinnamon, cardamom, ginger, and others. It will mesmerize your soul and drain all the stress and anxiety away from you. Whether first thing in the morning or after a long day at work, when you prepare your tea with this intensely aromatic and flavorful spice blend, it tastes and feels divine while relaxing your body and soul.
The above-mentioned blended spices are some more that we offer in our wide range of products comprising organic, natural ingredients. Shop for 100% pure organic and natural Dwaraka Organic products at Amazon or your nearest Indian grocery store.